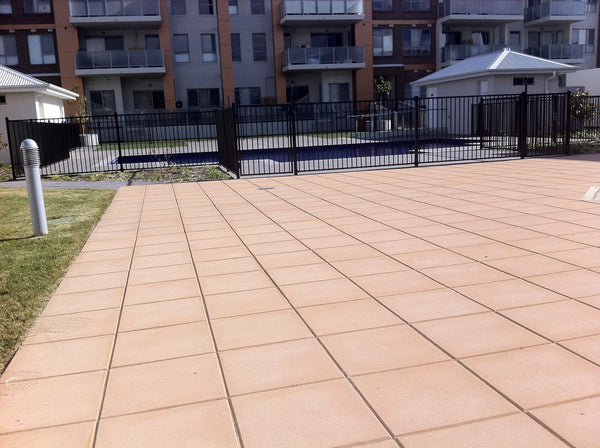 Bink Pavers offer a click and collect service and also a contactless delivery service.
Bink Cement Products/Pavers are an established concrete paver manufacturing company for over 50 years and are resllers of masonry products as well as pre cast concrete products.  Award winning supplier of pavers to the Nations Capital and surrounding regions.
The company is locally owned in the A.C.T and the concrete pavers are 100% Australian made using local materials with the latest technology in equipment and machinery enables Bink Pavers to maintain a high quality paving slab made to Australian standards.
We have experienced sales staff who are ready to help you with all enquiries and offer honest and reliable advice, you can pick up from our yard or a next day delivery service is available.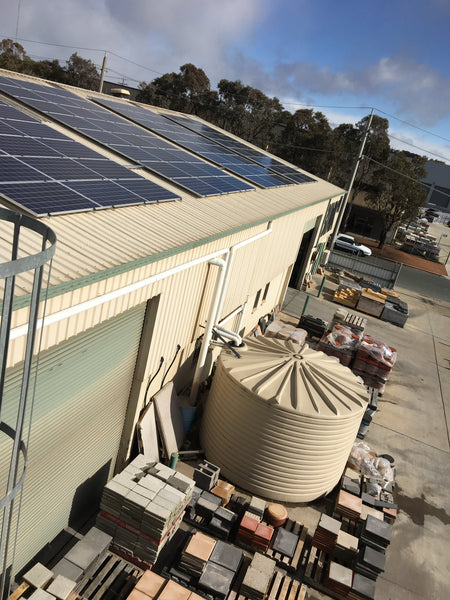 About Us
Bink Cement Products/Pavers are all manufactured locally here in Canberra with our materials sourced from the surrounding region enables a cheaper produced product which is very competitive to other products allowing for a more affordable landscape design to be achievable, a lot of award wining homes and landscape design awards have used Bink Pavers.
Products manufactured from our Mitchell factory have a reduced carbon foot print due to low transport required to manufacture and deliver as well as water saving measures in place with 100% waste water recycled back through the production line, also 50% of electricity used for production comes from solar panels on the roof of the factory.
Bink Pavers are the MBA supplier of the year and we will continue as we always have to manufacture a quality product to the Canberra and surrounding region.
So come in and talk to one of our experienced sales staff, we would be happy to offer assistance and guidance with paver design to colour selection as well as solutions for retaining walls and most things concrete. We hope to talk to you soon.
The Bink Cement Products Team
Testimonials
"In my 30 years  experience with Bink Cement Products they have produced a consistently good product at an economic price. Staff have always been friendly, helpful and courteous both with me and my clients seeking advice.
Most importantly, Bink Cement Products is a local company contributing to the local economy. Their product is made and stored locally ensuring quick and efficient availability."

Garden Solutions
"RAM has had a long association with Bink Cement Products and in all dealings we have found them to be highly dependable, professional at all levels and consistent in delivering a high quality product.
The support and advice from the highly experienced team at Bink Cement Products is always welcomed by us and proven to be very valuable on all our projects. "

RAM Constructions
"Bink Pavers provide a great quality product that is always consistent and at a competitive price. The local manufacturing ensures easy and flexible dealings with staff happy to meet personally, tailor orders to suit any situation and deliver product safely and timely. The modern facilities which include the manufacturing factory, storage yard and safe loading area allow a dynamic and efficient approach to product supply at a local level. We have been using Bink Pavers for a number of years now and look forward to continuing with their product and services."

Foxy's Landscapes
"ABC Landscaping have been purchasing products from Bink Cement for over 30 years. We have always appreciated their pleasant and helpful approach to our needs. Their locally produced paver range ranks among the best on the market."

ABC Landscaping
"I commenced trading with Bink Cement Products in 1968 and find their product is excellent for my landscape design not the least is the quality of their product. Irrespective of the size of the project deliveries are made  with their own trucks promptly. This ensures their products are delivered with no damage exactly in the right place on site. My clients range for residential homes to prestigeous commercial projects. Where I have recommended Bink Cement Products my clients have always accepted my recommendation without hesitation after I have supplied samples to demonstrate the quality of their products. And most impotantly their products are both a reasonable and competitive price."

Cedric D. Bryant Garden Designs
"Bink Cement Products consistently supply quality product on time, when requested, service is always friendly and helpful. Site placement of product is always as requested even when placement is difficult."

Combined Paving & Landscaping
Bink Cement Products

Staff are professional helpful and have an enthusiastic attitude. Prompt and reliable delivery service. High standard product at competitive price.

"Our firm has done in excess of 30 years trading with Bink Cement Products and hold high regards for the company."

Valley Landscapes